Boker 2020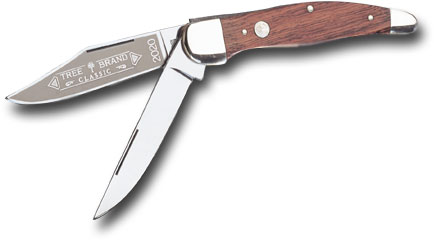 The Boker 2020 is a large knife that provides extra utility thanks to having two 4" blades: a clip point and a skinner.
---
While it is larger than your average folder, the extra size is nice for the outdoorsman who wants a premium German knife that offers the extra safety of folding blades.
---
Durable and dependable, this knife has all the quality you expect from a German made knife.
---
The 4" blades are premium Solingen high carbon steel,
and the length of the knife when closed is 5 1/4".
---
This rugged knife comes with a leather belt sheath.
---
This heavy duty Boker folding hunter is very attractive, sporting Rosewood handle scales, which are held firmly in place by a pair of nickel silver bolsters.
As you would expect with German craftsmanship, the handle, like the rest of the knife, is designed to last a lifetime.
---
The Model 2020 definitely has a tough 'personality', is a world class work and woods knife, and would be about perfect for the outdoorsman who likes good sized hunting knives, but doesn't want a fixed blade.
---
Take a close look at one at your favorite knife shop, and see if you don't agree.
---
Return from Boker 2020 to the German-Knife.com home page.