Boker Damascus Knife
Did you see a Boker damascus knife somewhere that you simply haven't been able to forget?
I wouldn't be surprised; my personal favorite knife to day-dream about is the Leo Damascus model.
Several other superb limited edition Boker damascus knives are also available.
---
Copperliner
A Copperliner folder is available with a 300 layer Boker Damascus blade forged by Manfred Sachse.
Blade length is 2 5/8".
The handle scales are rare amboina wood, and the bolsters are polished nickel silver.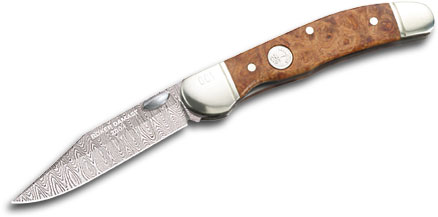 ---
HK Model
An HK model liner-lock folding damascus knife is available in a limited edition with a 300 layer Damascus blade also forged by Manfred Sachse.
Blade length is 3", handles are of African Macassar.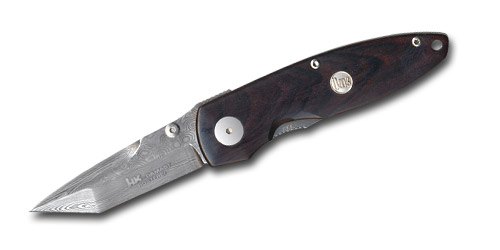 ---
The Boker Leo is another Gemini Style limited edition damascus folding knife.
It's available with a Damascus blade forged in a small pyramid pattern by Marcus Balbach. The steel is from the barrel of a Leopard I battle tank, with chromium-manganese and vanadium tool steel added. Blade length is 3 1/8". The handle is 6061-T6 aluminum, with desert ironwood inlays.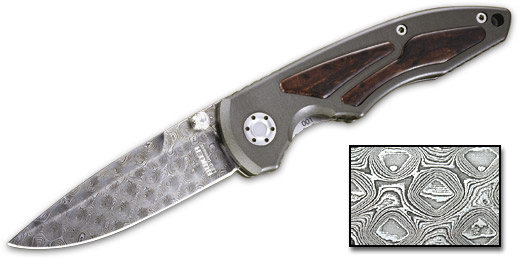 ---
I have no doubt that the premium materials and precise German craftsmanship of these beautiful Boker Damascus knives will satisfy even the most discriminating collector.
---
Return from Boker Damascus Knife to the German Knife .com home page.