PUMA Stock Knife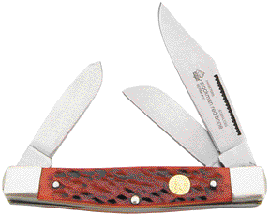 The PUMA Stock Knife is a 3-blade, stockman style pocket knife that's designed to be useful in a variety of situations.
Convenient, easy to carry and always ready for work, this handsome PUMA pocket knife is handmade in Solingen, Germany.
---
The PUMA Stock Knife has three blades: a 3" clip point blade, a 2-1/4" spey blade, and a 2" sheepfoot blade.
All three blades are forged from D1.4 Cutlery Stainless Steel and, with Rockwell Hardness Test ratings of 57-59, they are tough enough to hold an edge during frequent use.
---
The blades fold into a compact, 4" handle with brown jig bone or sambar staghorn scales.
The handle, of course, is just as durable as the rest of the knife, which means that it is designed to last for years.
Intended for hard work, this durable knife will be ready for work whenever you are.
---
For outdoorsmen, this knife will stand them in good stead for a variety of needs.
Whether it is cutting rope, trimming twine, or shaping a hot dog stick, this premium German knife will make a good companion on any camping or hiking trip.
Whatever needs to get done, the PUMA Stock Knife is ready to do it.
---
Whenever you head out into the great outdoors, this knife is an excellent choice.
With a hard edge, a tough body, and a durable design, it is a knife that you will want to keep at hand.
As well, it is attractive, with a classic style that reminds men of their Boy Scout days.
And with its toughness and reliability, you could be passing this knife down to the next Boy Scout in your family.
---
Return from PUMA Stock Knife to the German-Knife.com home page.